Case Study: Aster Housing
Highlights:
· Complements the business drive for Digital Inclusion
· 'AllAboutMe' a bespoke solution built around SeeMyData
· A viable alternative to printing communication
· Enthusiastically welcomed by Residents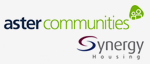 Case Study:
Aster Housing

October 2013
For Aster Housing:-
Stacey Northover

- Head of Housing, Aster Communities
For Quince Associates Ltd:
Tony Rackham

- Sales & Marketing Manager


Background
'AllAboutMe' is the Aster Housing online portal created in conjunction with SeeMyData which was launched in October 2014.
The project was managed by Stacy Northover Head of Housing for Aster Communities and Synergy Housing in Dorset
'Fit For The Future'
Aster Group is currently in the midst of a company-wide initiative called the 'Way We Work' (WWW), which is designed to help ensure their business is fit for the future and flexible enough to adapt to advances in technology as well as the changing needs of both customers and our colleagues.
Embracing new technology and limiting the impact day-to-day work has on the environment to an absolute minimum are 2 fundamental principles of WWW.
Digital Inclusion
Stacey explains Aster's drive for Digital Inclusion: "One of our top priorities - for the present, not just the future - is to be 'Digital by Design'. Whatever we're working on, our first thought should be to provide a digital solution, rather than automatically thinking of printing something if it's not really necessary.
Traditionally, we've sent lots of printed correspondence to our customers relating to their tenancies, but we wanted to start moving away from this."
'AllAboutMe' / SeeMyData
Synergy, which merged with Aster Group in 2012, already had an online portal for customers in place called Synergy Online which had been provided to us by SeeMyData. This allowed customers to access a selected number of our core services, such as paying their rent, reporting a repair or a problem with anti-social behaviour. It was a simple and effective system which was also very user-friendly, but it wasn't being exploited to anywhere near its full potential. Just 134 of Synergy's customers were registered to use Synergy Online, and this wasn't nearly enough.

Stacey explains: "We decided that the portal should be developed so that it would become available to any Aster Communities or Synergy customer with web access. The new version of the portal includes a whole range of new services such as the 'Report an Issue' function, which would allow customers to let us know about anything else, apart from repairs or ASB, they needed our help with, and also a section called 'My Communications' which stores all correspondence a customer has had with us so they have a full record of everything we've sent to each other about a particular subject, which can be accessed easily at any time.
"We also decided to give the portal a new name. We asked all our 1,400 colleagues across the Aster Group to send us any suggestions they had. We had more than 60 name ideas to choose from before we settled on AllAboutMe. We liked the fact this sounded personal and thought our customers would feel it was something tailored to meet their specific needs.
"In addition to ensuring the portal could fulfil all our technical requirements, we also needed to make sure AllAboutMe was publicised extensively to colleagues and customers. We embarked on a comprehensive promotional programme, creating a screensaver for all colleagues using computers to remind them AllAboutMe would be launched imminently."
The future
Stacey explains how she sees the portal developing:

"We've been delighted with the response to AllAboutMe and the project team will be meeting regularly to discuss future development of the portal, assess the current usage by customers, and check whether there are any other useful functions we can introduce.
Alongside this, we're already working on an exciting sister product to AllAboutMe which will take things a step further - a mobile and tablet application called AsterApp."

* Note this is a summary of the interview with Stacey Northover of Aster Housing. The full article first appeared in the January 2015 edition of 24housing Magazine.